RiskRecon, the easiest path to understanding and acting on third party cyber risk, has been ranked as a leader in The Forrester New Wave™: Cybersecurity Risk Rating Solutions, Q4 2018. In the report, Forrester, a leading global research and advisory firm, evaluated 9 cybersecurity risk ratings solutions.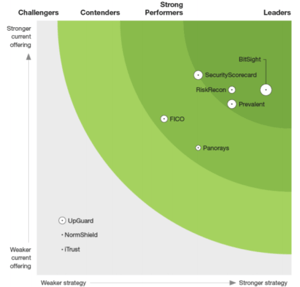 RiskRecon was recognized for its robust risk analysis, assessments, and context. The report stated that "RiskRecon stands out with its focus on contextualized, action-oriented cyber-risk ratings. Its Risk Priority Matrix tool helps customers narrow down, prioritize, and take action on their top third-party cyber risks based on their unique business assets and security posture. Once prioritized, RiskRecon applies AI to suggest mitigation steps and facilitate action plans."
For more details on the Wave evaluation, please download the complimentary copy of the report.