In a continued effort to drive innovation and meet the growing needs of today's businesses, RiskRecon has announced enhancements to the platform's reporting features including uniquely curated insights for Executive/Board Meeting use cases as well as expanded reporting capabilities for Discover Licensees.
What's New?
Portfolio Executive Summary Report
Reporting both program activity and risk metrics is essential to communicating the effectiveness of your third-party risk management efforts. Program activity metrics such as, remediation success, inform the business of the degree to which you are managing your third-party portfolio, while risk metrics inform the business of the severity and types of risks detected within your cyber ecosystem. With RiskRecon's newest Executive Summary Report users can readily share both metrics in one document, comprehensible by Non-IT and IT audiences.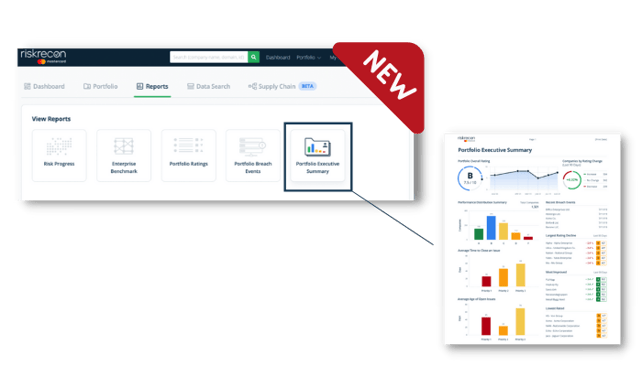 Included in Portfolio Executive Summary Report:
Portfolio Overall Rating
Performance Distribution Summary
Average Time to Close an Issue
Average Age of Open Issues
Companies By Rating Change
Recent Breach Events
Largest Rating Decline
Most Improved
Lowest Rated
Performance Breakdown by Criticality
---
Expanded Reporting Capabilities
To ensure all RiskRecon users have a comprehensive view of their cyber risk ecosystem, Discover Licensees can now enjoy expanded reporting access at no additional cost.
Reports Now Accessible to Discover Licensees
High-level overview of company's ratings and action plan progress
Detailed overview of company's cyber threat landscape including ratings by domain criteria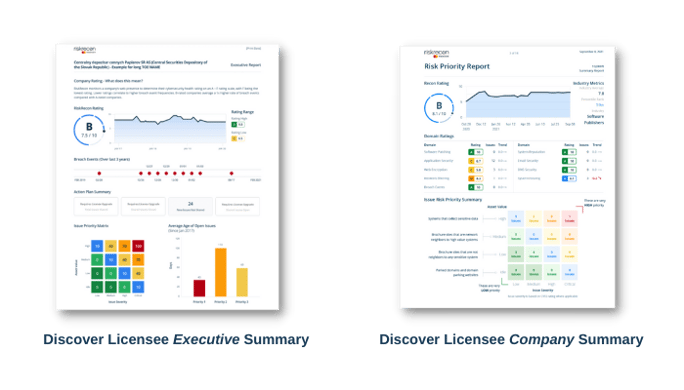 Ultimately, third-party risk management is a process of holding enterprises accountable to good security practices. RiskRecon's reporting capabilities conveniently display where the highest risk exists within your cyber ecosystem and empowers you to quickly share and act on those risks.
Only RiskRecon enables customers to build a scalable, third-party risk reduction program that compresses remediation cycle time, improves analyst productivity, and ensures continuous vendor collaboration.
To learn more about Reporting capabilities in the RiskRecon platform and how you can get the most out of it, schedule a demo today.